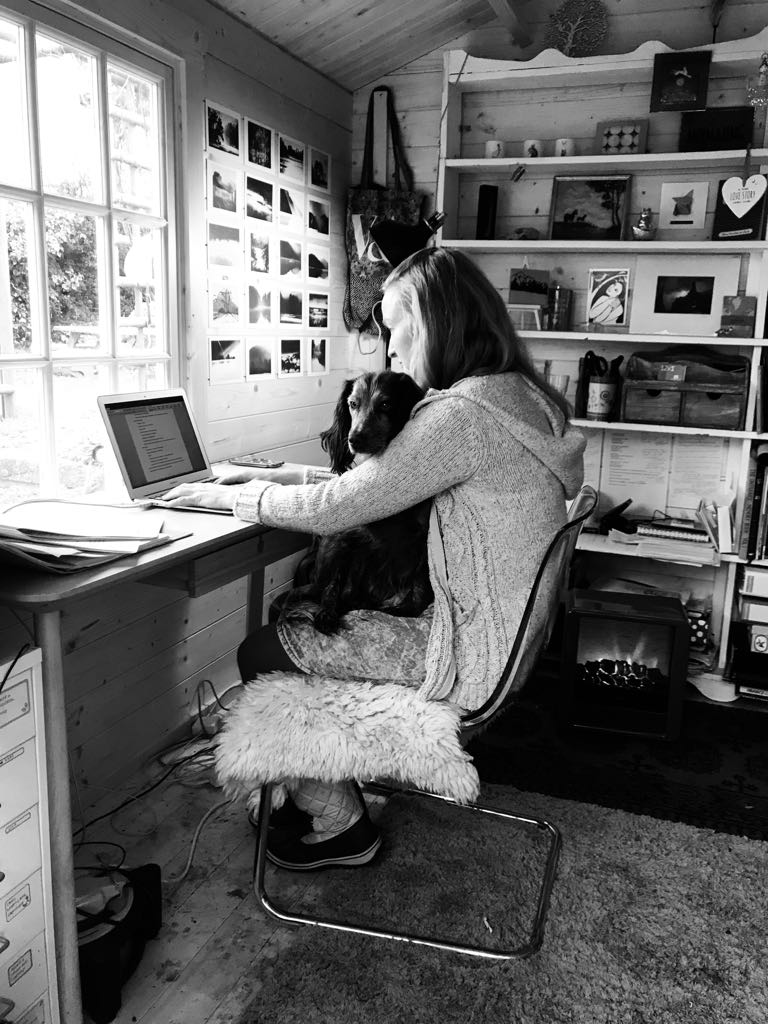 Interviewed by InkTears founder
Anthony Howcroft
Hannah, you've obviously had a great year with your writing - you were the Winner of our InkTears short story contest, and our Runner Up last year. I know those weren't your only two published stories either, so we'd love to know more about your writing life. Tell us about yourself. How long have you been writing, and what made you start?
Thanks Anthony, I am still buzzing about winning your competition. I have loved reading since I was four, and as a child I dreamt of being a writer (and a metal detectorist). As a teenager I wrote a lot of tormented poetry. I studied English & Publishing at University and considered journalism as a career but was put off by the competitiveness of it (ha, the irony). Then life swallowed me up a bit. Three years ago I decided to give writing a proper try and signed up to an online introductory creative writing course with Faber Academy. It was the first writing I'd done in many years, and I loved it. I then applied for their Writing a Novel course, which I completed in 2015 (the resulting attempted novel is in a drawer). Around this time, I wrote my first short stories and entered them into competitions. They went nowhere. I despaired. I read my way through Nicholas Royle's Best British Short Stories anthologies, carefully. I wrote more, I entered more. I made it onto a long list. I got rejections. Then a short list. I got rejections. Then I won something, which kept me going through the next round of rejections. I was hooked, and haven't looked back. Sometimes I feel sad that I didn't start earlier, but then I figure maybe I just wasn't ready to commit to writing the way it needs to be committed to. I know that I won't ever stop writing now I've found it.
You've lived in many places, from Yorkshire to Nepal. How do those locations seep into your writing?
They haven't, so far. Though setting is always the first thing in my stories that emerges, I dislike hearing myself in my fiction. This was something I battled with at first, how to keep the narrator(s) in my stories distinct from my own voice. This is the reason that so far I've not used my own past in my writing. Since I've started writing though I do deliberately seek out places that I think could be creatively inspiring, Cyfannedd Fach [Anthony: this year's InkTears Short Story Contest winner] being a prime example.
Who are the people in your stories - where do they come from?
They come from nowhere and everywhere. News articles I have read, a man I sat behind at a carol concert, a woman who I pass in the street – more often than not they just emerge from the setting I have chosen, as outlines that I need to sketch in.
You story The Fox is set in an alternate future and could be termed sci-fi. I don't know if you ever read Margaret Atwood's The Handmaid's Tale, which has recently been turned into a TV series, but it is also a sci-fi tale. However, I suspect both The Fox and The Handmaid's Tale would be found in a different section of the book store - perhaps feminist literature? (or just literature). Do you think female writer's tackle the future in a different way?
Women have had to work harder to be recognised, not just as writers, but in the workplace, in the family unit, in politics and the arts. Therefore, to me it feels logical that in imagining the future, the strongest and most interesting voice is the one that has been repressed, that has to fight to be heard.
I see you have an agent (congratulations!). How did you find one? Any tips for the rest of us?
Thank you. Yes, I've been really lucky, Laura Macdougall of United Agents is brilliant. She actually found me through twitter – she read some of my stories that I had on my website and contacted me, and we've been in touch ever since. We met up in London and got along really well, and when I was a third of the way through the book I am working on, she took a leap of faith and offered to represent me. I jumped at the chance.
Twitter has been invaluable to me because of its ability to connect writers with other writers, agents and publishers, so I'd recommend it to any writer as a way to get your voice out into the world. It's not only virtual either, I've got several friends in real life whom I met through twitter, including my writing buddy James (we've been critiquing each other's work for around eighteen months now).
Can you tell us about the novel you're working on?
It's loosely based on Cyfannedd Fach, certainly in terms of setting. It also covers similar themes. I am in the final stages of editing it at the moment and we're hoping to submit to publishers in the next few months. I am hoping that the patience and resilience I've built through short story competitions will see me through the nervous wait (and inevitable rejections!).
Do you see short stories as a stepping stone to a novel? Will you carry on writing short stories, or will novels now take up most of your time?
When I first started writing short stories it was to try and build some credibility around my writing, and that worked really well in terms of giving me a profile in a competitive industry. It also increased my resilience to rejection. Unexpectedly, I fell completely in love with the form, and now I absolutely intend to continue writing short stories, alongside my novel (hopefully novels)! There is a short-term satisfaction to be gained from writing short stories that is absent with a novel, and I find them a positive way to break up the novel writing/editing at times when it feels too impossible. They're also an excellent way to hone the craft of writing, as well as being a good testing ground for small ideas that may stand the pressure of expansion into novel form. I'd love to have a short story collection published one day too.
What's your writing routine like - do you have a special place or time where you work?
I write around my paid job, my children and my dogs, so establishing a fixed routine is difficult. My ideal way to write is early in the morning, every day, and in my writing hut (a few days before I found out I'd won InkTears I bought a writing shed which I couldn't afford, my InkTears win paid for most of it, as if it was meant to be!). For the past three years I have written anywhere I can - kitchen table, in bed, in cafes.
What about the tools? Tea, coke or red wine? Typewriter, pen and paper, or laptop?
Laptop, tea, and if I've had a particularly good day, at the end of it, wine. Throughout the day when I'm not at my desk I make notes in my phone which I transfer later. When I am editing a short story I print it out and carry it around with me, obsessively tinkering with it.
Critical writing question: Melanie Whipman (author of Llama Sutra) has Red Setters, I have Weimararners, what type of dogs do you have?!
Working Cocker Spaniels, Buddy and Lyra.
Finally, since you have kindly agreed to be one of short story judges this year, do you have any tips for aspiring short story writers? What are the key things that you use as checklist to measure your own stories?
I am so excited and honoured to be a judge this year, thank you. I am fairly haphazard by nature and tend to avoid fixed methods when it comes to writing. I'll start writing a story knowing nothing about it other than the setting, and will wait for the story to become clear as it fills itself in. I can usually tell if the story has potential at the end of the first draft; if it feels like it has a pulse, a heartbeat of its own, then it's a good sign. If it doesn't have that, I ditch it. My one tip would be, if your short story feels too self-conscious, it probably is. Consider showing it someone else whose opinion you respect. Other people can really help to identify things that you haven't noticed in your own writing.
Thanks for spending some time with us Hannah - best of luck with the novel. We shall look forward to reading that, and some more of your short stories!